'Dhyan Yoga Kendra- Right way of doing Yoga' has already suggested to all in its knowledgeable post that doing Yogic kriya, that is, the Shatkarm Yogic activities (Jal Neti – vaman Kriya- Gargeles) will improve body's immune system against any pandemic or any viral disease.
Now see, media reports are too printing that by doing in  right way of we get free from Corona Pandemic. See news below came in 'Rajasthan Patrika' the leading News Paper of India.
Also, see the research made by Dr. Sheetu Singh, SMS Hospital, Jaipur, Rajasthan.
The nasopharyngeal wash may prevent COVID infection: says a study ..
Read more at:
http://timesofindia.indiatimes.com/articleshow/75587651.cms?utm_source=contentofinterest&utm_medium=text&utm_campaign=cppst
As already been suggested by Dhyan Yoga Kendra and mentioned in Ancient Indian Yogic text that in Shatkarm (Shat- 6, Karm – Kriya; body cleaning techniques, Neti- Dhauti – Bhasti – Nauli- Tratak – Kapalbhanti), the Jalneti is done for washing / cleaning Nasal Passage and Pharyngeal Passage with saline water which works as an antiseptic, useful in combating Corona Virus.
Dhyan Yoga Kendra is helping the mass worldwide through online Yoga Classes and spreading awareness in doing the right way of doing Yoga, Pranayama thus helping all in fighting against the Severe Acute Respiratory Syndrome  Corona Virus 2 (SARS –CoV-2)
Most important by Dhyan Yoga Kendra is that do these under the supervision of an expert Yoga Teacher. The team of Dhyan Yoga Kendra – Kajal, Minakshi, Nisha, Jitendra, Qadil, etc are doing a great job under the surveillance of Yoga Acharya Subhav Sharma.

This post is becoming more important by other article published in Tribune newspaper :
Nasopharyngeal wash can prevent COVID infection: Lung India
https://www.tribuneindia.com/news/nation/nasopharyngeal-wash-can-prevent-covid-infection-lung-india-81208
Read the major important points published in The Tribune :
By doing SALTWATER GARGELS & NASOPHARYNGEAL WASH (Known as JAL NETI in India YOGIC SHATMARM KRIYA) in the RIGHT way 3 times a day may defeat CORONA
 The answer to how it defeats is – the cells in the throat and nasal mucosa convert CHLORIDE IONof HYPERTONIC SALINE to HYPOCHLOROUS ACID (HOCL) having an anti-viral effect. FYI – HOCL is used as a disinfectant in the wash and is an active component of bleaching powder.
 Experts say that NASAL WASH & GARGLES reduce periods of illness and symptoms of viral diseases
Our previous gives information about same:
साइनस / Sinusitis का उपचार और घरेलु नुस्खे – ध्यान योग केंद्र
Deccan Herald also laid emphasis on this news, Dhyan Yoga Kendra is highlighting some important points:
First few lines of News :
The report in an international health journal 'Lung India' published on Tuesday points out the significance of nasal rinsing and gargling with saline water in preventing the contraction of the virus in the present scenario when the world is reeling under…
According to Deccan Herald – a systematic analysis of NASAL RINSING and GARGELING, says (Hypertonic Saline – 3 spoon salt in half liter water) has potential to prevention against COVID-19
Read more at: https://www.deccanherald.com/science-and-environment/practice-of-nasal-rinsing-gargling-has-potential-of-helping-people-fight-covid-19-834417.html
One may refer to below-mentioned video for doing JAL NETI :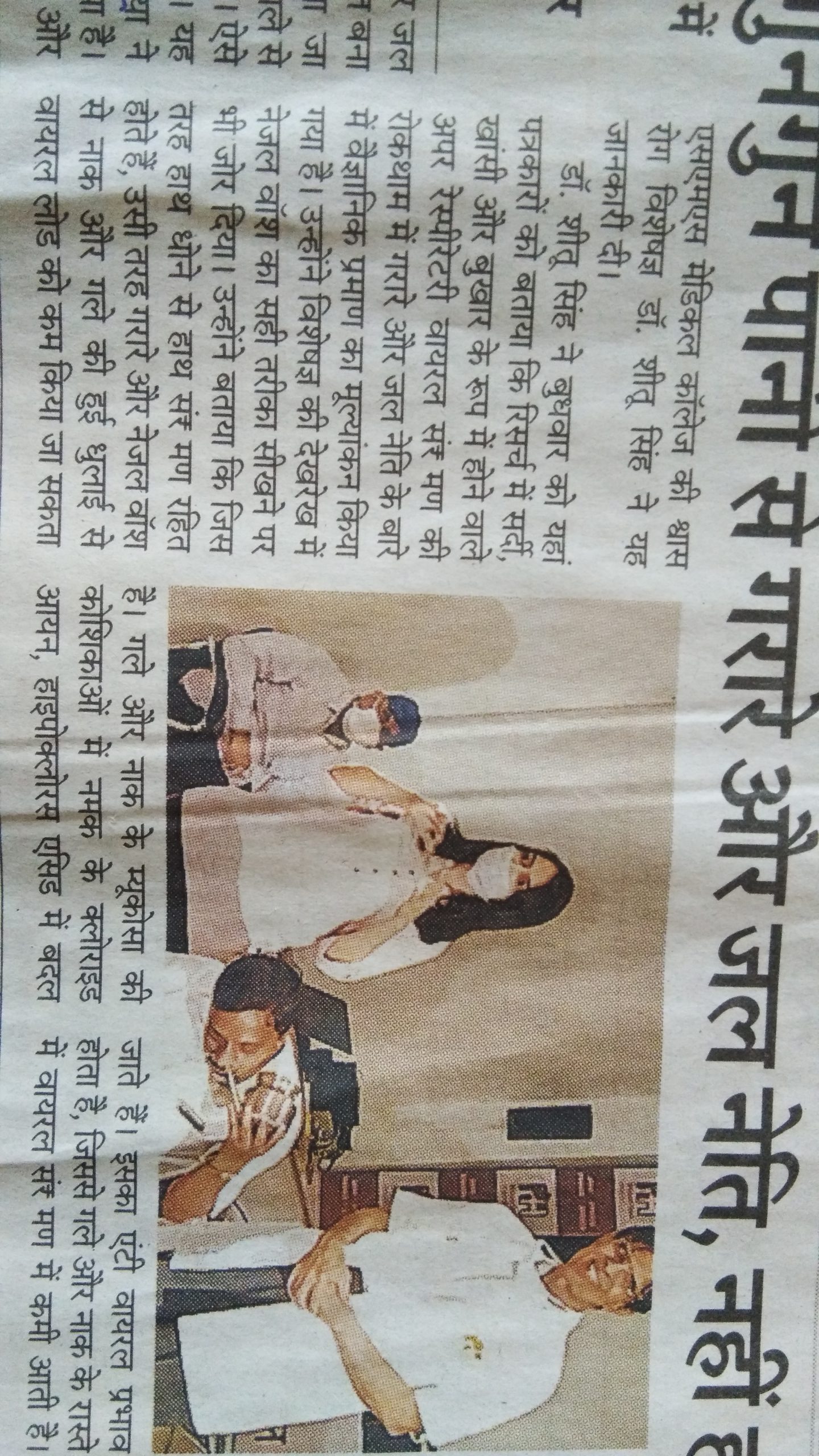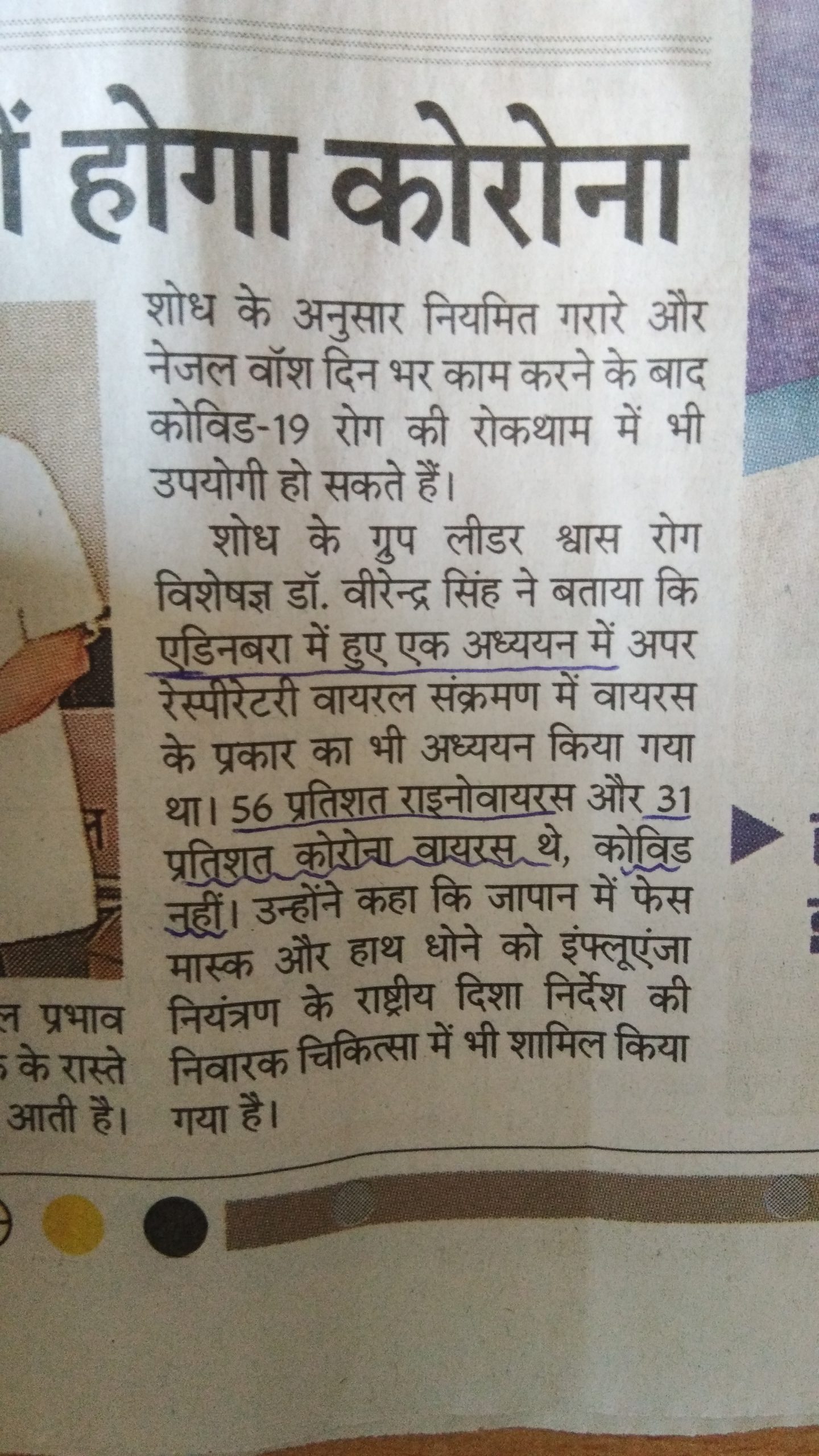 OUR RECENT IMPORTANT POST:-
Purchase best quality mask for Corona online – PAN India available
https://dhyanyogakendra.com/yoga-online-classes-for-all-worldwide-by-dhyan-yoga-kendra/
https://dhyanyogakendra.com/ONLINE-Yoga-the-best-way-to-boost-immunity-against-corona-pandemic/
Contact us for any detail:
www.dhyanyogakendra.com
www.facebook.com/dhyanyogakendra
www.instagram.com/fitdyk/
7014289144 ,9799097860
dhyanyogakendra@gmail.com
Please follow and like us: